Fanfiction is like a mosaic.
Everyone is part of a shared world. The stories build on one another, reference one another, precede or follow one another, and there are relations everywhere.
This is never more apparent than in the SHERLOCK BBC fanfiction world. As of this date, there are only six episodes of Sherlock. By the end of this year, there will be nine. A small body of work to attach such a huge fandom to, except that the TV show is itself a work of fanfiction for the earlier SHERLOCK HOLMES books by Sir Arthur Conan Doyle.
In trying to get my mind around the links, I came up with the idea of using flowcharts.
I think that it would be neat to create STORY READING CHAINS which links related works of fanfiction into one larger work or collection based upon their similarities in world, details, point of view, etc.
Here is my first attempt.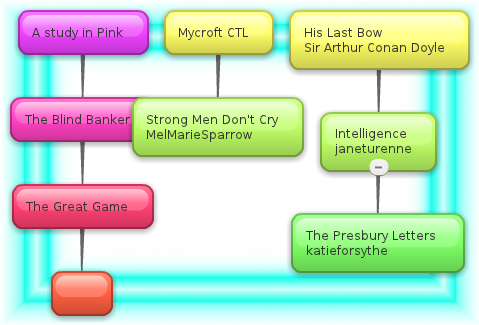 One of he Chains, I've mentioned before:
His Last Bow--> Intelligence--> The Presbury letters
Another one came to me when I came across a story that could follow one of my stories
Mycroft - Confessions, truth, and lies --> Strong Men Don't Cry by MelMarieSparrow
I'm going to be thinking of this over the next few months.
I have an image in my head of stories overlaying stories, but I can't imagine this software could handle that.
What a huge map it would be to try to link together by causality all of the stories on one fan site alone. It would be phenomenal.